What months are hurricane season in the Atlantic?
The Atlantic hurricane season runs from June 1st to November 30th, and the Eastern Pacific hurricane season runs from May 15th to November 30th. The Atlantic basin includes the Atlantic Ocean, Caribbean Sea, and Gulf of Mexico.
Bill Cease, Chief of the Westmoreland Emergency Services, presented information on what to do to prepare for hurricanes at the September 8th Colonial Beach Town Council work session.
Cease explained why there are no FEMA designated shelters in Colonial Beach and gave resources for guidance in creating, personal emergency kits and emergency plans that fit individual family needs.
Washington and Lee High School and Washington District Elementary School In Oak Grove are the two official shelters of Westmoreland County Virginia.
The County chose not to locate any shelters in the town of Colonial Beach because routinely when large storms hit, the area becomes an island of sorts. This poses a risk of residents being shut off to other areas, making it difficult for residents to leave or for supplies to be brought in.
State Route 205 is the primary highway leading out of Colonial Beach and Oak Grove, which consists of districts 5 and 4. These areas together have a population of around 10,000 citizens, 2/5 the population of the county.
So rushed evacuations would be a major undertaking on this two-lane highway.
Other secondary roads leading away from Colonial Beach don't provide safe and adequate infrastructure for a large population evacuation during a storm and heavy flooding. Traveling these roads in tropical storm conditions would be a danger for motorists.
State Route 205 has two bridges one either side (one at Wilkerson's and the other in Oak Grove, Mattox Creek Bridge) that used to flood significantly during high water events, but both have been rebuilt by V-Dot and raised.
However Westmoreland County has not reevaluated the risks or made any plans at this time to provide a shelter here in town. However there is still considerable flooding in the area just prior to the bridge at Wilkerson's Restaurant.
Over the years, Colonial Beach Town Councils, continue to ask the same questions regarding why we can't make the town schools into an Emergency Shelter. The answer is not that simple.
Although the town has every right to create a shelter, in order to be called an official shelter the town must follow state and FEMA mandated protocols that would prove to be very costly to the tax payers. There is also the risk of the town still being cut off by these two bridges should flooding cause damage to them. This would open the town up for more liability if people chose to use the shelters, and were left stranded, rather than evacuate.
Despite all those problems the school has always opened their doors to those in need during heavy storm events providing whatever shelter, food and water they could.
Bill Cease said that the shelter's had a capacity of about 10% of the population of Westmoreland County. Recent Covid restrictions have brought those numbers down.
Cease presented recommended actions to take NOW before a named storm hits the area.
Knowledge is key to determining how you need to prepare. Cease recommends learning your flood risks.
First you should know that the Atlantic Hurricane Season runs from June 1-November 30.
Image Link: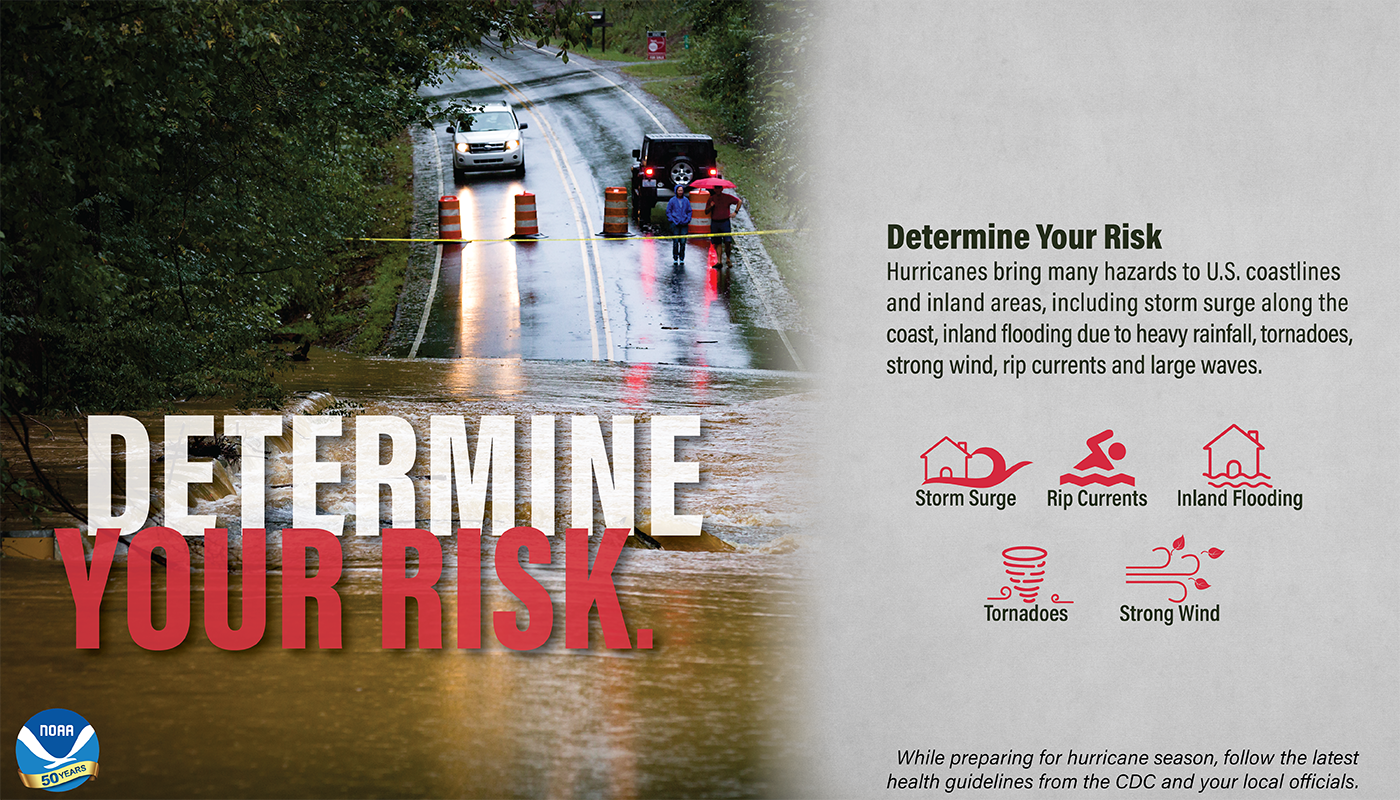 Determine if the location of your property is in a flood zone. Get information on whether your property will be affected by heavy storm surge. FEMA recommends you find out how rain, wind, water, even tornadoes could happen far inland from where a hurricane or tropical storm makes landfall.
Find out your properties elevation, meaning how many feet above sea level your lot is. This information will help you determine your immediate flood risks during storms by learning the expected storm surge from local weather experts.
You can visit your local land use office to get this information. In Colonial Beach visit Town Hall located at 315 Douglas Ave. or call Phone: (804) 224-7506.
In Westmoreland County visit 111 Polk St, Montross, VA 22520 or Phone: (804) 493-0120
Make a customized evacuation plan for you and your family. Make sure everyone knows the plan and if you have already done so, review it again at the beginning of each hurricane season to make sure you have put any changes needed in place and that everyone is still familiar with the plan, where to meet if separated and where to find hurricane supplies should they find themselves separated for the rest of the family.
Here is a guide FEMA recommends following to help you customize a plan that is right for your family. https://www.ready.gov/plan
Cease recommends learning evacuation routes in your area. These will be the routes VDOT will work to keep clear before all other roads. These routes are your best chance for safe evacuation if it is required.
Prepare your emergency supplies ahead of time. Bill Cease said, when an event is off the cape of Africa you have at least 5 days before it hits the East Coast. This is the time to make sure you have gas for your generators, fill up car gas tanks, check your emergency food supplies, fill prescriptions etc.
Here's a link to a good all around supply list that will help you customize your disaster kit.
Long before storms hit, check with your insurance company, determine if you need flood insurance, if you do then ensure you're covered. Also talk to your insurance company to find out what is covered. Many companies offer food replacement if power outages cause food to spoil.
Also determine if there are any steps recommended by your insurance company to help secure your home and reduce damage from storms. Taking steps, like regular tree trimming, may help lower insurance premiums, just be sure to let your insurance company know when ever you make these improvements.
Strengthen you home by adding shutters or if it's possible board windows before approaching storms, to minimize damage in the event of tornadoes or strong winds and flying debris. Move expensive items to a second floor when feasible in case of flooding.
Cease also reminded folks to check in on neighbors to see if there is anything they need help with. Montross activates a system to check on elderly during severe weather or other natural disasters, called the Montross Volunteer Assistance Program. (MVAP)
To learn more about the program click here.
Several volunteers are each assigned a resident who is in the program, calling them before, during and after an event to see if they need anything. Often the volunteers will go shopping for food or pick up prescriptions to help ensure their resident has what they need.
If you or a loved one feel like you'd like to be included in our MVAP either as a volunteer or a recipient then call 804-214-0084. Or you can call Montross Town Clerk Patricia Lewis at (804) 493-9623 for more information.
What to do as storm approaches
Learn different alerts and sign up with one in your area.
Emergency Alert Systems:
Westmoreland County: https://www.westmoreland-county.org/news/rave
Colonial Beach https://public.coderedweb.com/CNE/en-US/BFC2924FD19F
King George https://member.everbridge.net/453003085611288/login
Heed advice of officials. Many people are tired of false alarms, but it's better to be safe than sorry.
Too many people remaining behind during an evacuation puts a lot of strain on emergency services.
The difference between a tornado watch and a tornado warning is that with a watch conditions are favorable for the formation of a tornado so weather experts ask that you "watch" for a tornado.
A warning means that a tornado has formed and been confirmed so experts issue a tornado warning instructing residents to seek shelter immediately.
Gather Supplies
Have enough supplies for your household, include medication, disinfectant supplies, masks, pet supplies, etc., in your go bag or car trunk. After a hurricane, you may not have access to these supplies for days or even weeks.
Remember that not everyone can afford to respond by stocking up on necessities. For those who can afford it, making essential purchases and slowly building up supplies in advance will allow for longer time periods between shopping trips. This helps to protect those who are unable to procure essentials beforehand and must shop more frequently. Only take the items you and your family may need so that others who rely on these products can also access them.
Resources:
https://www.ready.gov/hurricanes
If you do lose your pet during a storm here is a non profit organization that may be able to help.
Dogs Finding Dogs https://dogsfindingdogs.com/
Shelter Locations:
Westmoreland County:
Washington and Lee Building 16380 Kings Hwy, Montross, VA 22520
Phone: (804) 493-8015
Washington District Elementary School 454 Oak Grove Rd, Colonial Beach, VA 22443
Phone: (804) 224-9100
King George County:
For King George Shelter Information click here: Emergency Response Actions
*NOTE: Shelters are only activated in the case of an emergency or impending storm.